This one has it all sweet, sour, spicy, flying away like Aladin on a carpet of taste and joy 💖
| | |
| --- | --- |
| Prep Time (Cutting, Frying) | ~5-10 minutes |
| Total time | less than 15 minutes |
| Servings | 1 |
| Glutenfree | ✅ |
Ingredients for 1 Miam Khang Leaf
Multiply the ingredients for each leaf you want to serve. As a starter dish I recommend maximum 2 leaves per person.
The ingredients listed for the sauce are sufficient for at least 10 Leaves.
Fillings chopped in small cubes
1tsp of red onion
1 tablespoon of Tofu
1/4tsp Ginger
1/2tsp Roasted Peanuts
1/2tsp Organic Lime
The other ingredients
A big Chaplu Leaf
1/4tsp Fresh Birds-Eye Chilis, cut in thin slices
1/2tsp coconut flakes
Ingredients for the Sauce
2tbsp brown Coconut Sugar (Palm sugar) [1]
1/2tbsp Hosin Sauce
1tbsp Water
2tbsp Soy Sauce
5mm of galangal (or ginger)
1 Kaffir lime leaf
1/2tsp Lemongrass (simply cut small/thin)
[1] alternatively you can take 1tbsp of Brown Sugar
Instructions
Prepare the filling ingredients
Roast the peanuts in a pan slowly on medium level until they get a nice brownish color
As described in the ingredient list, chop the red onion, the tofu, the ginger, the roasted peanuts and the organic lime (with peel!) into small cubes and put each of them aside. Also cut the chili into thin slices.
The tofu, cut in very small squares gets roasted in the pan together with some oil. Once it gets brownish, add a tablespoon of soy sauce to it and eventually throw the tofu into a serving bowl.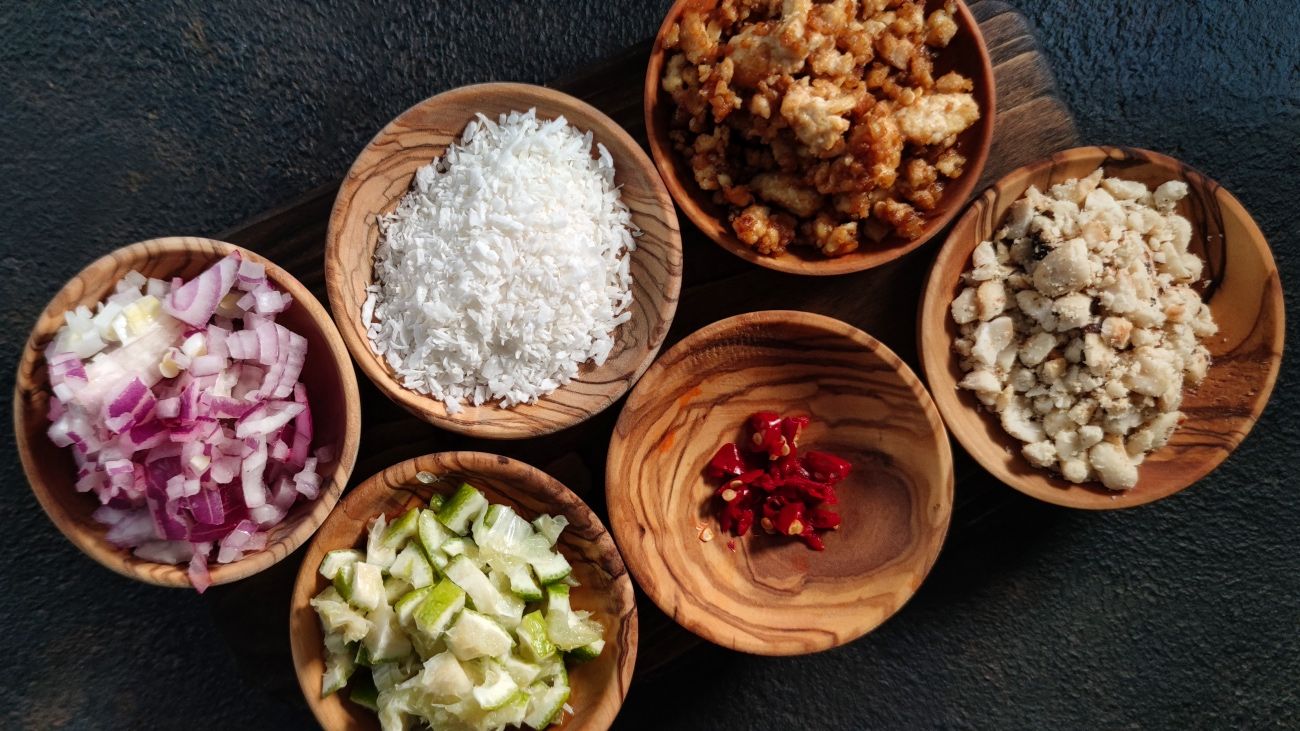 Make the Sauce
Cut the Galangal (or Ginger) in very thin pieces
Cut the Kaffir leaf as small as you can with a sharp knife (very thin stripes are recommended)
Take a pot, put the sugar in it and heat it up until it caramellizes
Add the rest of the ingredients, stir well and cook for 1 minute whilst stirring
Put the ready sauce in a small bowl for it to be served
The Miam Khang Leaves
Wash the Chaplu leaves and then simply serve the ingredients, the sauce and the leaves nicely so that everyone can fill their own leaves
Now fill the leaf with all ingredients. In theory the order does not matter but the best visual experience is given when you add the sauce and then afterwards the cocounut flakes as the last filling. Do not forget to add more chili if you want more spicyness.
Once your leaf is ready you can serve it e.g. on eggcups / shot glasses.
The leaves are then enjoyed as one bite, alltogether in the mouth 👌😍 - A wonderful experience that is very very unique and refreshing