If you like Oreo and Cheesecake then you will just love this recipe. Right upfront: The oreos are not in the cream but in the base! That's what makes the base delicious and the cream stay cheesy.
This is another original recipe. Fun fact: This recipe is the result of 5 failed tries of coming up with a Russian Chocolate Cheesecake - no this one is not the Russian one, this is the Oreo Cheesecake. I really really wanted to come up with a "Russian Zupfkuchen" recipe at the time but either my cream was too runny after baking or the cake just broke apart. Honestly I was like "How on earth can I make 5 times the same cake and fail it every single time in some way". I started comparing well-known recipes for "Russian Zupfkuchen" from other blogs as part of my tries. But even those weren't at all like what I wanted tastewise. So maybe my aspiration for good cake is too high or whatever.
Long story short: One day it hit me like "I never tried to process silken tofu for cheesecake cream". So I threw away my desperation and said to myself: "Well let's make cheesecake instead". And due to some experiments I did before I knew that orea base works fine. If the cream would work out: Well it's an experiment.
The result was this absolutely amazing cheesecake recipe which I am superproud to present.
| | |
| --- | --- |
| Prep Time | ~10 Minutes |
| Baking Time | ~45 Minutes |
| Yields | Ø26cm Oreo Cheesecake |
Long time no Blender?
Got no Blender? This recipe uses the massive power of crushing pieces into fluids - that's what Blenders can do 😌 Better get one now if you do not have one already. E.g. check a little Ninja here 👻
Ingredients
Cheesy Cream Ingredients
130g Peeled Almonds
160ml Plant Milk (I cannot recommend Oat Milk here)
500g Silken Tofu
2 Packs of Vanilla Sugar
100g Sugar
60g Vanilla Pudding Powder
80g Margarine
Juice and Zest of 1 Lemon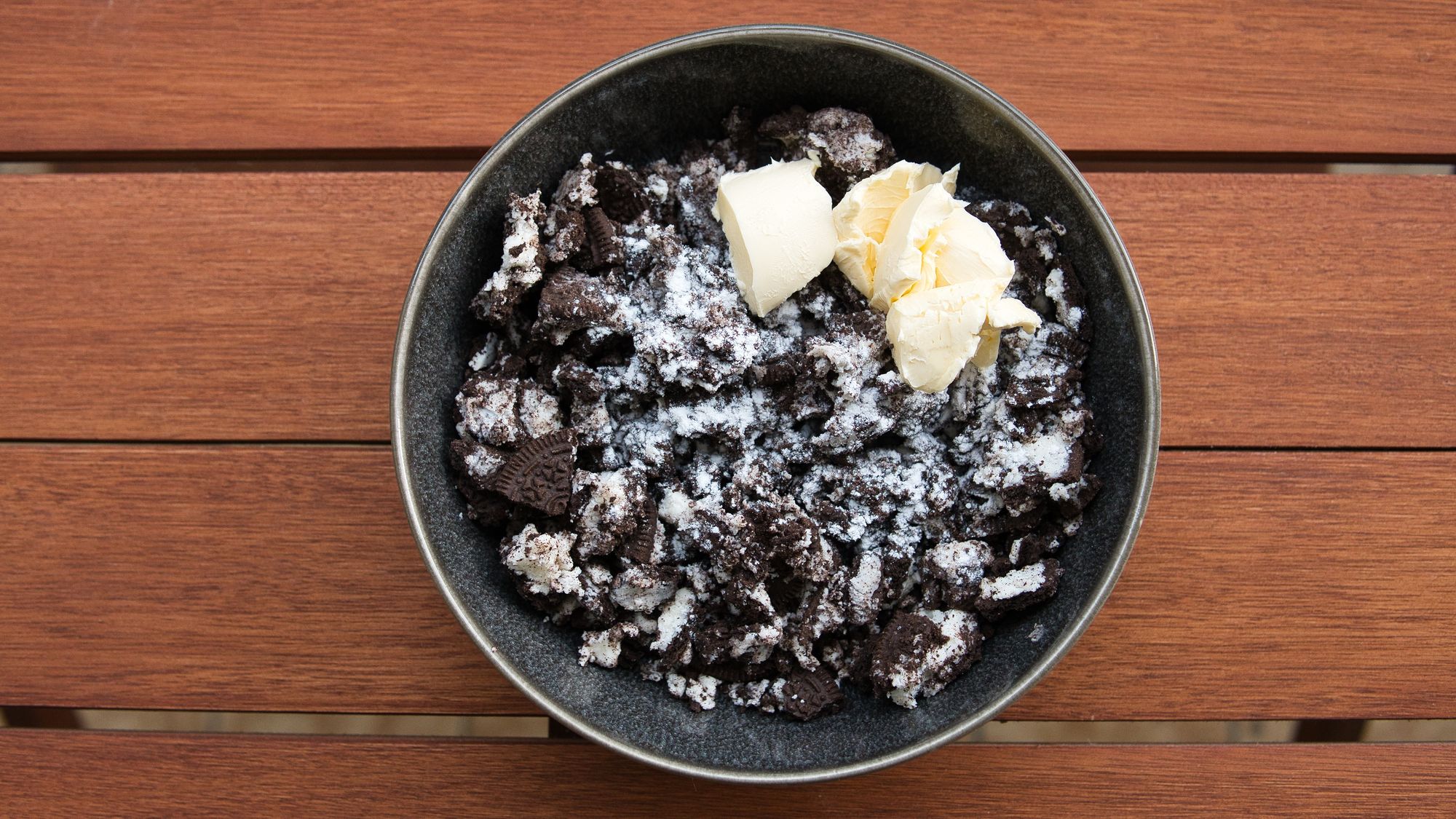 Oreo Base Ingredients
2 Packs of Double Oreo Cakes (that is 157g per Pack)
1 flat teaspoon Baking Powder
40g of Margarine
---
Instructions for making the Oreo Cheesecake
Prepare the Base
Making the Base is extremely easy. That's probably the best part about this recipe.
Crush all Oreos into very small pieces.
Add the Baking Powder and the Margarine
Make a grainy dough out of it. It doesn't have to be a smooth dough but it shouldn't be very big chunks. If you want you can use the blender for that as well.
Grease your cake baking dish
Put the Oreo Base on the bottom and distribute it equally. Give it slight steep edges on the sides (1-2cm)
The Cheesy Cream Instructions
Put the almonds together with the tofu and the milk into the blender and smooth it up!
Add the sugar, the vanilla sugar and the margarine and run another quick blender round
Lastly add the lemon zest and juice and the pudding powder. ⚠️ 👉🏽Attention: Do not put the pudding powder in as long as the mass is warm (some blenders easily heaten up the mass). So in case it's more than room temperature warm please cool it down before adding the pudding powder. Otherwise the mass would thicken before baking and would destroy the whole process!
Finally add the creamy mass onto the base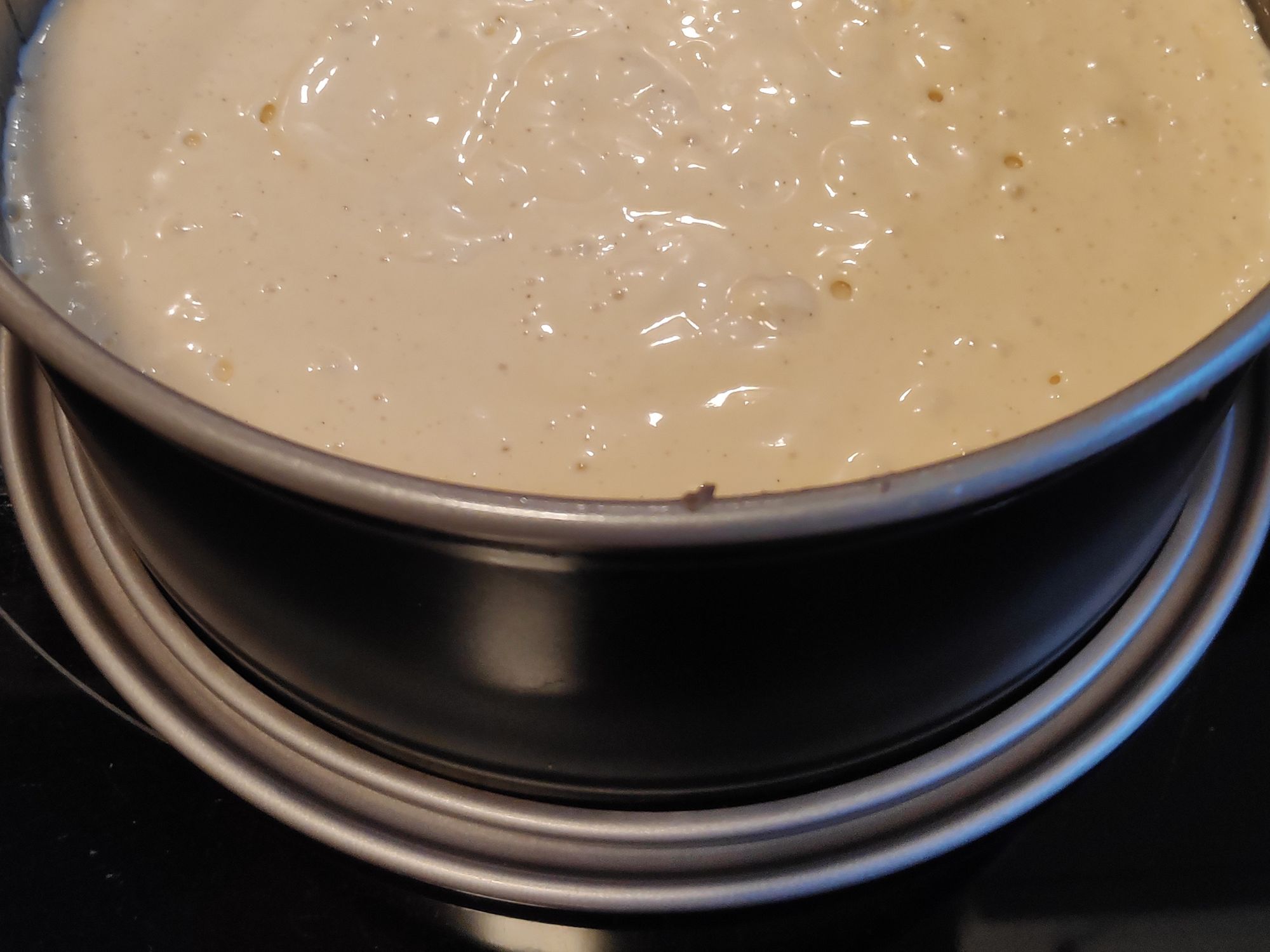 The Baking Experience
I found that if you add "experience" after anything it sounds way cooler 😁
Preheat the oven to 160°C (320 °F)
Put the cake in and bake for ~45mins
Before finally taking it out make sure it got kinda equally "golden". That's a good sign.
Let it cool down completely (if you miss out on this process you risk it falling apart)
Enjoy this wonderful Oreo Cheesecake 🌱 😋