Simple and Tart? Do those words even fit together? Yes! Since there is literally not much manual work involved other than switching the flip on your blender this one is definitely to be highlighted as "simple".
This smooth strawberry torte is all but too heavy to digest. Instead of heavy cream we make use of fresh strawberries, yoghurt and Aquafaba to get a fluffy cream. Simply fresh-fruity-delicious. 🍓
| | |
| --- | --- |
| Prep Time (Cream) | ~10 Minutes |
| Baking Time (Base) | ~30 Minutes |
| Yields | Ø26cm Cake |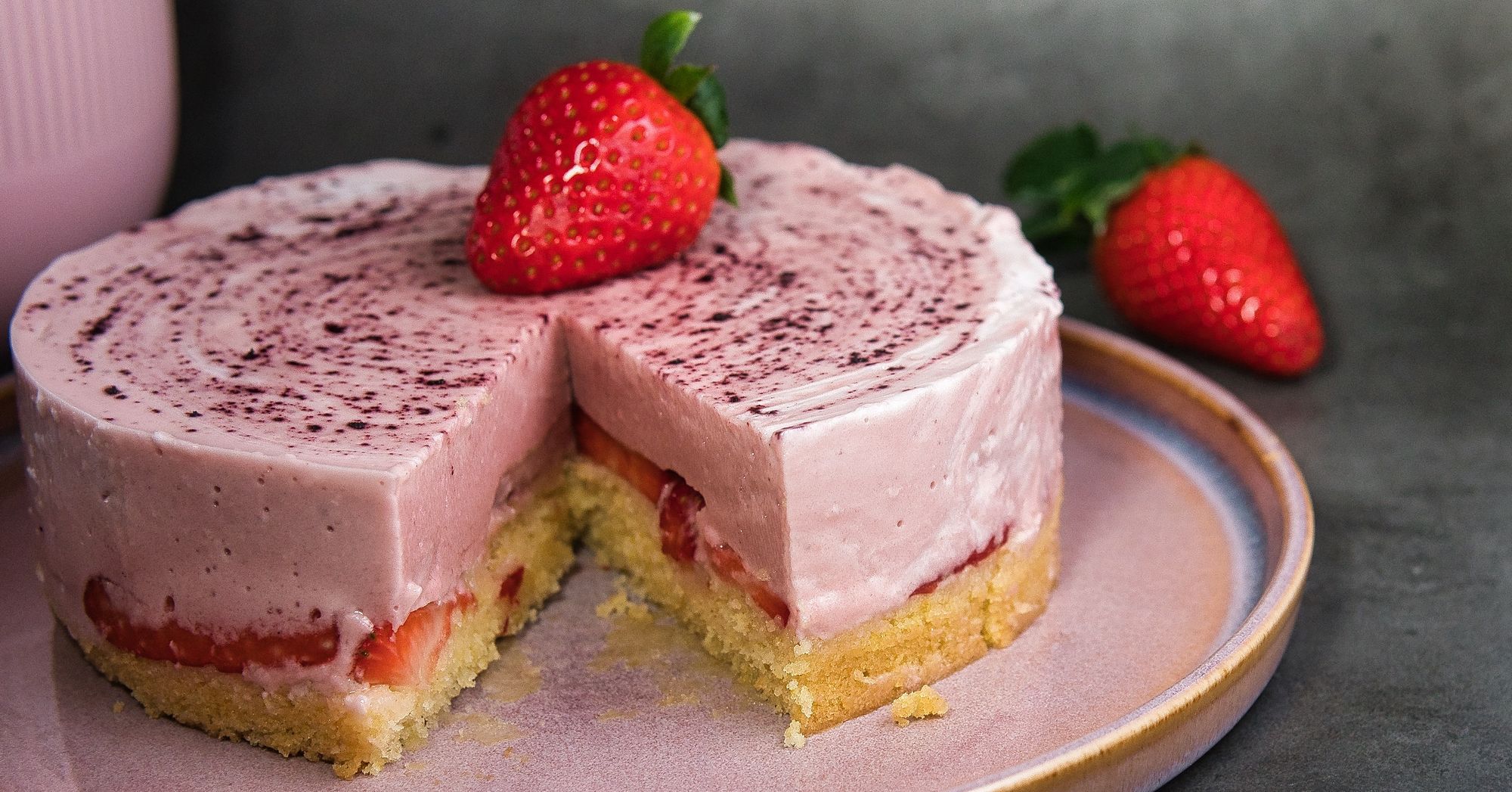 Tools you need
We need a Blender and a Mixer cause the cream ingredients need to be blended and the Aquafaba is way better done by a mixer than by hand. A common electric hand mixer should be sufficient but even easier is getting a kitchen machine such as these: Kitchen Machines.
Got no Blender? This recipe uses the massive power of crushing pieces into fluids - that's what Blenders can do 😌 Better get one now if you do not have one already. E.g. check a little Ninja here 👻
Ingredients
Strawberry Cream
500g Strawberries
1½ Banana
9tbsp Plant Milk
165g Powder Sugar
10 tbsp Chickpea Water (that is the water that comes with chickpeas in a glass) [1]
1½ tbsp of Sparkling Water
A bit of cream stiffener or 1/4tsp Guar Gum
150ml Yoghurt
1½ tbsp firm Coconut Oil
25g Agar Agar
[1] Chickpea water is simply the water that comes in a glass full of chickpeas 🤓. It has awesome characteristics for baking and desserts similiar to whip cream.
Cake Base
150g Flour
105g Sugar
1½ tsp Baking Powder
A small knife tip of tumeric
A small pinch of salt
1 Pack of Vanilla Sugar
30g Plant Oil
30g Margarine
185ml Sparkling Water (important! We need the sparkling one)
Additionally
200g fresh Strawberries for putting on the cake base
Instructions
The Cake Base
This is the easiest part: Throw all ingredients for the base together and mix them.
Grease your baking dish and then put the mass on the bottom of the baking dish. Distribute evenly.
Bake at 180°C (356 °F) for ~30min goldbrown.
Remove from oven, carefully flip and let it cool down on a cake rack.
Prepare the strawberry cream
Pour the chickpea water in a bowl and add the powder sugar. Then mix it with your kitchen machine or hand mixer on highest level for 3-5 minutes. The result is somewhat firm and somewhat liquish. It should look white and creamy. Add a very small amount of guar gum or a little bit of cream stiffener and mix it so it stays firm.
The washed strawberries for the cream, the banana, yoghurt and coconut oil together in the blender. Blend until smooth.
Info: We are not yet fully done with the cream but we will do the rest in the last step of the following steps.
Let's get the cake base married with the cream!
It's very important that the base has cooled down so everything works out neatly.
Take a cake ring and place it around your base.
Take the additional strawberries, cut them in quarters and spread them evenly on the base.
Take a bowl and pour the Yoghurt-Strawberry-Cream in the bowl.
Now take a pot and put the plant milk together with 7 tablespoon from your cream in it. Heat it up whilst stirring and add the Agar Agar one by one. You will notice that it starts to thicken pretty fast so be careful that it does not burn.
After 1-2min of thickening and stirring you will add the thickened mass from the pot to your Yoghurt-Strawberry-Cream and mix it evenly.
Lastly take your prepared Aquafaba foam and fold it in. Do not use a machine here or you will destroy the fluffy consistency.
Now pour the finished cream onto your strawberry-covered base and let it cool down in the fridge for 1 hour.
After ~1 hour it should be pretty firm and ready to be cutted.
To get the cake off the cake ring you can slide a big knife between cake and cake ring carefully. Then you can take off the cake ring with ease.
The last bit is: Cut it, serve it, enjoy it! 🍰 😋 🍓
Tip: If you also want a bit of nice pattern on your cake you can take a red-colored fruit powder e.g. cranberry powder and rub a bit of it on top of the cream before letting it cool down in the fridge. You can distribute the powder with a fork to get a bit of a random pattern 👌.