I was scrolling around instagram food inspiration and stopped right at the post from @natuki.ch - It was just Bok Choy on a plate presented textually with lemon and garlic. See I am a big fan of minimalistic food but I could see immediately that there can be more to it. So I didn't check the linked recipe since I did not want to bias myself. I mean: With literally 3 ingredients described in the title there cannot be a lot of variation but that's where we hook in.
I was like: What can be added without the feeling of having added something on top? A little bit of sliced trumpet mushrooms and avocado wouldn't hurt the simplicity too much since they both come very soft and without a strong taste. Now as a contrast to the sour-strong lemon-garlic I felt that only a little bit of sweetness would just bring this dish to perfection - maybe not but it was worth a try.
And let me tell you upfront: This one is a straight 10/10 . I wouldn't dare to improve this recipe in any way. Without being arrogant: This is perfection. Extremely simple to prepare but so tasteful. I was just stunned. I hope you will be as well.
In this recipe you will not need any special hardware. Just a good knife.
| | |
| --- | --- |
| Prep / Cutting Time | ~10 Minutes |
| Actual cooking time | ~4 Minutes |
| Results in | 2 Servings |
Ingredients
2 big Bok Choy
1 big Avocado
A bit of fresh Mint
4 big King Trumpet Mushrooms (sometimes referred to as King Oyster Mushrooms)
1 Lemon
A pinch of sea salt
4 Garlic Cloves
1tsp Sesame Oil
5tbsp Mushroom Sauce (it's a sauce you will find in any asian market)
1tbsp Palm Sugar
1tbsp Water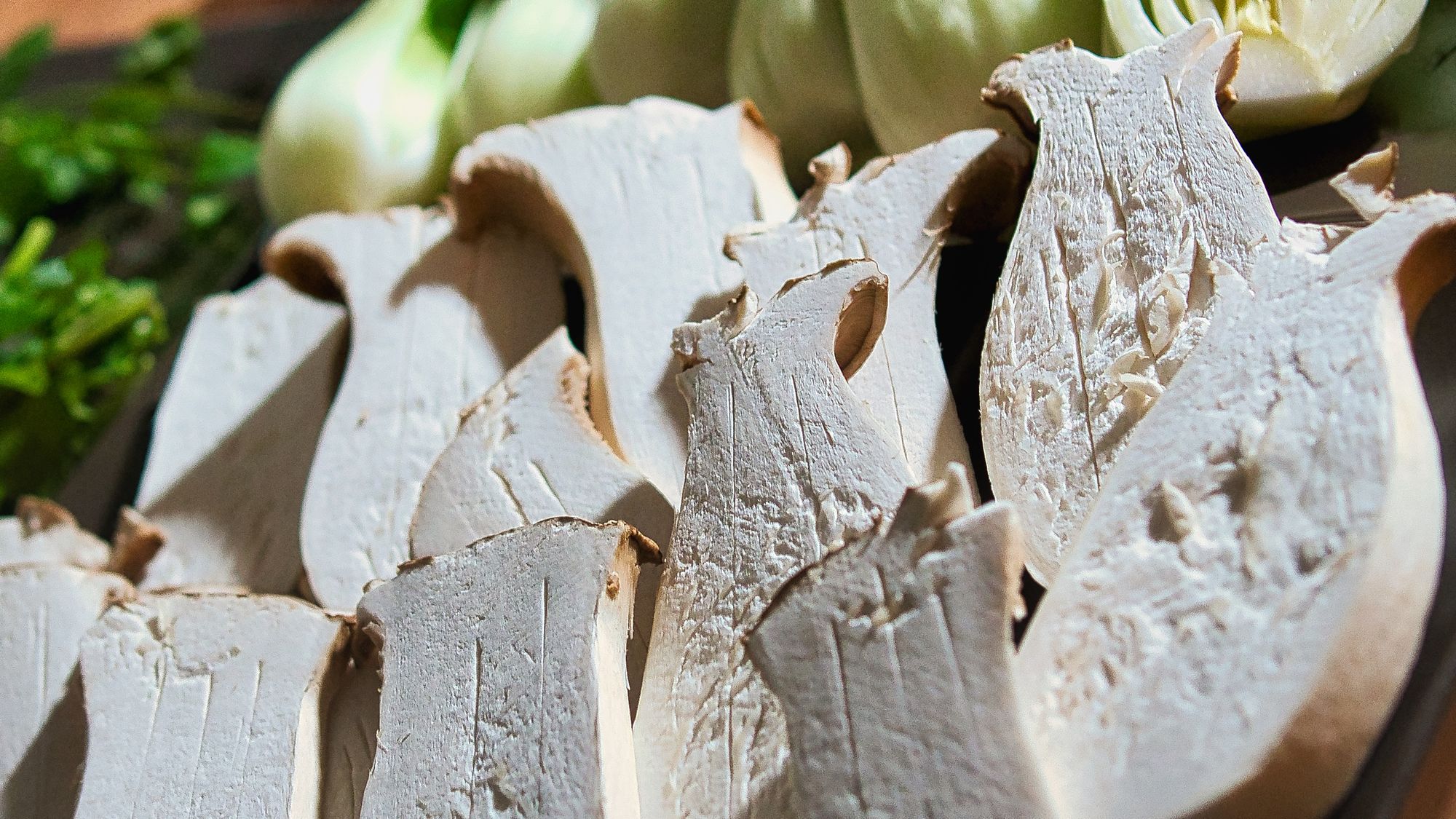 Instructions
Calm Down, we're already at it! Let's go making our Lemon-Garlic Bok Choy with Avocado and Trumpet Mushrooms 😍
The order of the following tasks is quite important to have everything ready right in time.
The first thing is to re-assure that the dish itself is cooked in less than 4 minutes so the essential part lies in preparing the rest
First things first: Cut the Avocado open and then cut the avocado halves flesh into thin pieces. Once you did that try to make a nice shape with these pieces on each plate - so one half of avocado on each plate.
The Lemon-Garlic Sauce: Crush the garlic, squeeze the lemon, take 4-5 small mint leaves, some sea salt and add it alltogether.
Add also the sesame oil and the water to that lemon sauce. There you go: Sauce done.
Mix the Mushroom Sauce with the Palm Sugar and then spread it across a big flat plate. (No we are not going to eat the plate)
Cut the Mushrooms in vertical slices each about 3mm thick (rather a bit thicker than thinner)
Read carefully here: Now use your knife to cut 3 long cuts on each side of the cutted mushroom slices. So you take a mushroom slice and carefully make some superficial cuts on one side and then on the other side. You do not CUT the mushroom slices into smaller pieces but you add cuts into the slices such that the sauce can go a bit into it.
Remember your mushroom sauce plate? Use it now to marinate your trumpet mushroom slices on each side.
Cut your bok choy in halves
Now be careful about the order of action again!
Take a pan and a pot parallely. Heat up enough water for the bok choys in the pot until it slowly starts cooking (do not yet put the bok choy in). When that happens make sure that your pan is heated up now as well.
Add a bit of olive oil to your pan and make sure your water in the pot is still cooking
Start frying the mushrooms - all at once if feasible - for 90seconds on one side
Turn the mushrooms and fry them for 60seconds on the other side
NOW put the bok choy halves in the pot with the cooking water
Wait another 30seconds
Take out the bok choy on a clean plate and take out the mushrooms from the pan
Now fry the bok choy for 30-45seconds on each in the same pan in which you fried the mushrooms.
Take out the bok choy and put 2 halves on each plate to be served next to the avocado half and the mushrooms.
Pour the Lemon-Garlic Sauce over the bok choy.
Done. Many atomic small steps for a wonderful taste experience 🥑🍋😍