According to Wikipedia the origin of "Chili con Carne" what many simply call the "Chili" dish is unclear but most likely to be found in the South of Northern America. It is found in the Tex-Mex-Cuisine as of today. The Ingredients differ from recipe to recipe. Most of them share Kidney Beans as common grounds. Originally only the meat and the chili were the common ground.
What I like the most about the Chili dish is that it is pretty easy to prepare, even for a big amount of people. And compared to other dishes it is really not a thing that you couldn't eat 3 days in a row 😁 That means: Prepare a lot of Chili con Tofu and then have some more the other days and/or put some in the freezer for next week.
The good thing about Chili is that there are no special requirements. Only a big pan or pot and here we go.
| | |
| --- | --- |
| Preparation | ~20 Minutes |
| Results in | 5 servings |
Ingredients:
500g Tofu
500g Kidney Beans
230g Sweet Corn
1 big Onion
800ml Tomato Sauce
2 Birds-Eye Chilis
4 Garlic Cloves


1tsp Sweet Red Pepper Powder
4tsp Vegetable Broth Powder
2tbsp Dark Soy Sauce
2tbsp Maple Syrup
100g concentrated Tomato paste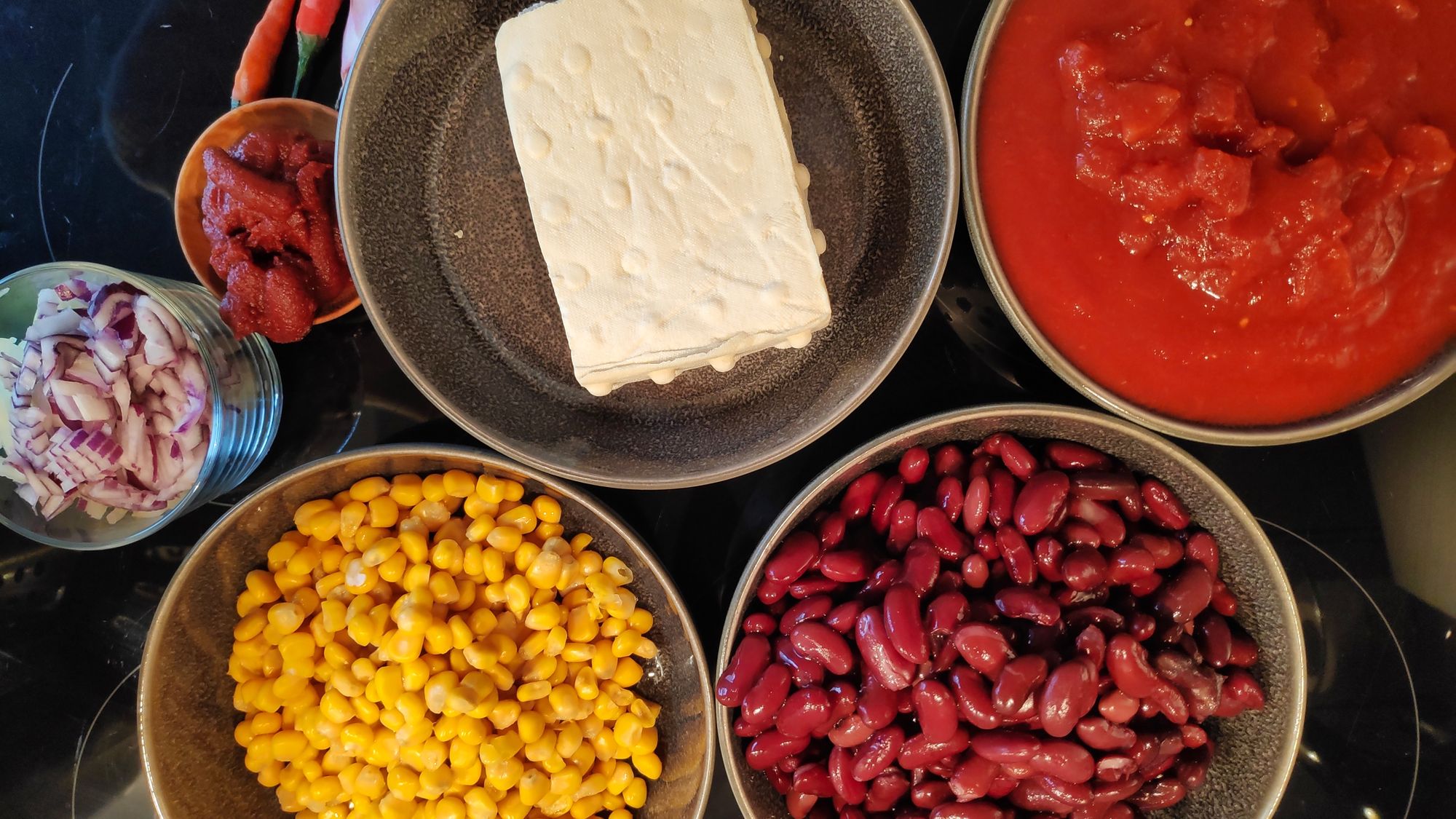 Instructions:
Mash the Tofu into little pieces e.g. with a potato masher or a fork
Put the Tofu into the frying pan
Heat it up to high level and dry the tofu a little bit without oil
After 2mins of "dry-frying" add the tomato paste and the red pepper powder and continue dry-frying for 2 more minutes
Now add a bunch of Olive Oil, crush the Garlic, cut the onion in squares and add them. Fry and stir.
Pour the tomato sauce to the mix
Add the Kidney Beans, the corn and the chilis (cut in slices), then stir
Add the broth powder, the Soy Sauce and the Maple Syrup, then stir
Now shut off the heat and let it rest for 1 hour at least so that the taste soaks itself through the ingredients. You could eat it immediately but the longer you let it stand the better it can permeate with taste.
Enjoy your Chili con Tofu with a bit of Whip Cream and mexican Oregano 😋 🌶